Nurses Deserve Comfort
Nurses take care of other people all day, making it imperative that they take care of themselves. They are typically on their feet for long periods of time, and without the proper foot support, this can result in severe lower back pain to throbbing knee joints.
Wearing proper footwear can help alleviate the pain and distribute weight evenly throughout your foot.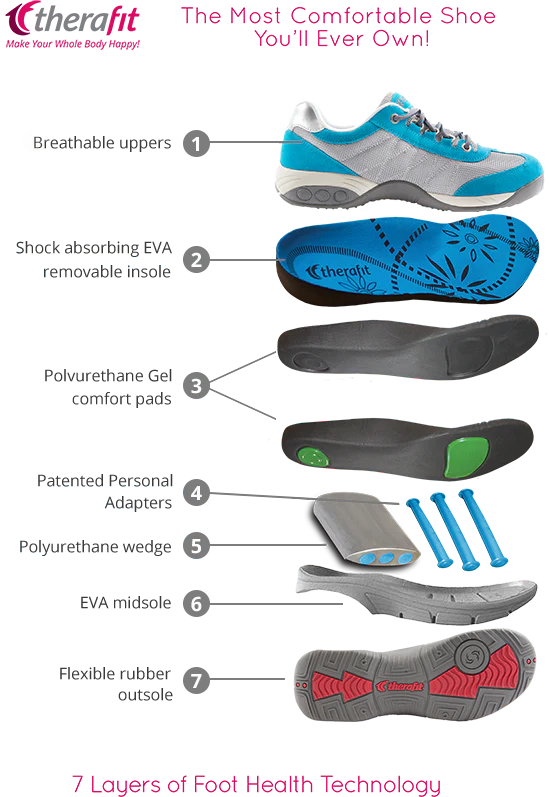 The Therafit Difference
Our patented technology provides cushioning and support helping to reduce the aches and pains that come from the stress of everyday activities. Utilizing the patented Personalized Comfort System (PCS), each shoe lets you adjust the impact protection and cushion level to fit your personal needs. You decide what works best for you.
✅ Work
✅ Home
✅ Travel
7 Layers Of Foot Protection
1️⃣ Comfortable, breathable easily cleaned, upper material that keeps temperature in check.

2️⃣ A shock absorbing EVA removable insole, with contured arch and heel support.

3️⃣ A gel insert comfort pad that adds comfort for long hours on your feet.

4️⃣ Patented personal heel adapters.

5️⃣ An adjustable shock absorbing heel wedge to personalize your level of comfort.

6️⃣ Uniquely formulated compression molded EVA midsole.

7️⃣Long lasting, high grip rubber outsole.
How Therafit Has Helped Nurses Stay Comfortable All Shift Long
⭐⭐⭐⭐⭐

This shoe is an absolute Nurse's dream!

I can work without feeling pain. I wear them even when I am not working! They look so unique. I get many compliments, inquiries too!

Marla

⭐⭐⭐⭐⭐

Best nursing shoe yet

have a problem with finding work shoes with enough arch support! These shoes have made a world of difference for me! I would recommend them for any nurse!

Michelle S.

⭐⭐⭐⭐⭐

Great Shoes for Nurses

I have been having a really hard time finding a good shoe with the right amount of support. The adjustable support was super helpful and my feet thank you for it!

Natalie O.
SHOP THERAFIT SHOES FOr NURSES